>
UPCOMING EXHIBITIONS and EVENTS

ANGUS MACDONALD , KINETIC JAM & EMERGENTISM
ANGUS MACDONALD
Everything Put Together Falls Apart

25th - 27th June
Hours 12 - 6 pm
Everything Put Together Falls Apart: is the first solo exhibition by 2020 Glasgow School of Art graduate Angus Macdonald. Consisting of Dust a 360 degree interactive charcoal-animation and Scaffold a kinetic sound sculpture the works highlight Macdonald's ongoing interest in mark-making and erasure and the continual process of construction and destruction that shape the urban environment. His work uses digital processes in order to modulate our experience of painting and drawing.
Through suspending construction materials and exploring their sonic qualities, the artist is interested in the agency of heavily instrumentalised objects and the tension between inert and living matter.
DUST, a 360 animation, depicts objects falling into a dark no-place. The objects are construction materials and other ephemera - including: a bull, a television, a column, and a severed hand. It began during the first lockdown and its content is informed by events in the past year, Macdonalds' (un)conscious reaction to them, as well as works by Theodore Gericault, particularly Severed Head and Limbs. Themes in the work are also expressed in Walter Benjamin's writing on Paul Klee's 'Angelus Novus'.

The animation was made by continually erasing, marking and photographing the same charcoal drawing. This process creates three things: a drawing, a thousand JPEGs and a pile of rubber and charcoal.

By combining these images into an ".mp4" file, the time contained within the picture can be accessed and experienced. In rendering this ".mp4" file into a 360 degree ".exe" file, using Unity 3D, the single point-of perspective familiar with drawings and film is fragmented, alongside the linear movement of time. This makes the audience (and their bodies) an active part of the completion of the work.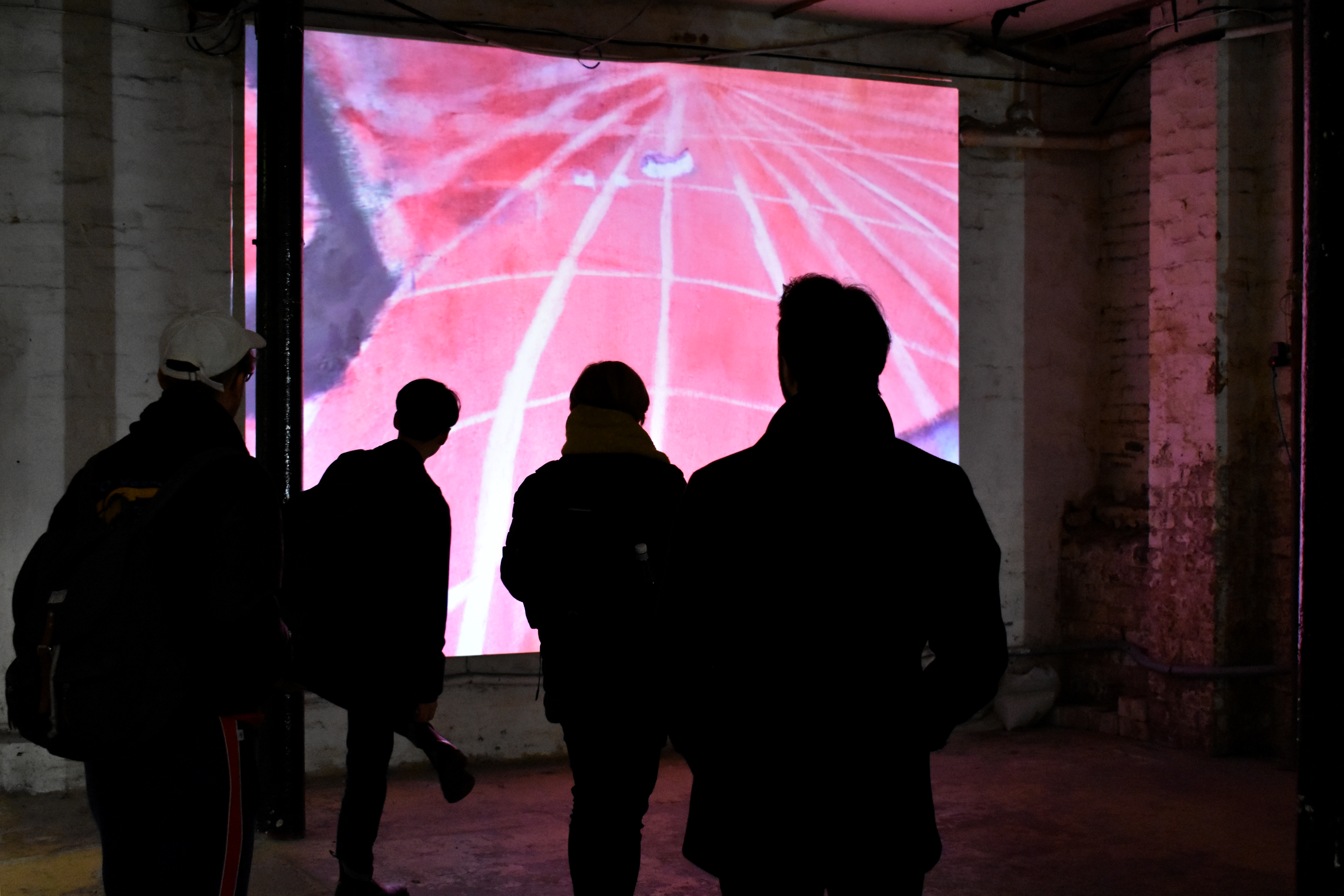 KINETIC JAM: LIVE EVENT

Friday 25th June
Hours 7 - 9 pm
Limited capacity BOOK online

here

:

Angus Macdonald, James Bragg and MontenegroFisher
Improvised sonic art and poetry in response to the exhibition Everything Put Together Falls Apart.
James Bragg is a 2021 UWE Fine Art graduate working across multiple practices including VR and photogrammetry. For Kinetic Jam he will be improvising live with modulations synthesisers, contact mics and objects.
Luna Montengro &Adrian Fisher are visual artists and poets working under the collective name mmmmm and the pen name MontenegroFisher. They collaborate in the making of visual and sonic interventions, performances, text, films and curatorial projects.

www.mmmmm.org.uk
EMERGENTISM
Sami Green X Simiah + Sophia Gazla
Sat 3rd - Weds 7th July
Hours 12 - 6pm

A metaphysical exploration of light, sound, and texture captured through conversations between object, technology, and human experience. Emergentism is a collaboration that builds on a new body of artwork by Sami Green, based on research into the life cycles and new beginnings, symbolised by seed pods. They are containers for ideas and feelings, driven by a passion for the preservation of our natural world and admiration for its intrinsic beauty. Sculptural objects become the intention, coloured light and sound represent the metaphysical. Nature, perception, and experience are woven together through the process of visual interaction and immersion.



Sami Green, a 2021 graduate of University Center Somerset has worked with electronic music producer Simiah to isolate frequencies representing coloured light to develop the potential of sensory impact with audio soundscapes. Simiah is well known to the music world for his contributions to hip hop, with numerous releases on the King Underground and Cut N Paste Labels.
Bristol-Based Artist and Counselling Psychologist, Sophia Gazla, paints abstract artworks that provide a platform for the embodying, and sensemaking, of personal themes and journeys. Exploring movement, brushwork, and layers to represent internal landscapes in colour and texture



For the Emergentism exhibition, Sophia's works will be motivated by colour frequencies and soundscapes created by Simiah, to explore the synesthetic qualities of colour and sound in the immersive experience. Embodying personal response as a material and physical perspective and exploring the idea that painting can be an expressive and regenerative process, supporting alignment
and transformation
.
<
PROJECTS + PARTNERSHIPS

SPUR.WORLD
2020 - onwards
Across workshops, collaboration, and mentorship the fifteen SPUR residents explore the boundaries of their digital practice through a pseudo-identity. In the culmination of this period of research and exchange, SPUR.WORLD employs the avatars' speculative look informing digital identity and environment.
Consisting of fifteen virtual worlds, the online exhibition represents the subconscious domain of the residents' custom avatars. Working within themes and representations of mysticism, ritual, and the natural world, the collective utilizes game engine technology to form complex yet cohesive narratives.
Housed within SPUR.BOT, a software-derived creature with tentacles expanding throughout the network, the exhibition expands from its unearthly central hub. Nebulous and unbound the viewer navigates the space by interacting with a series of avatar-generated icons. The access points to new worlds, the selected icon teleports the viewer to a plane of the avatar's subconscious.
Developed in Unity, a cross-platform 3D game engine, each world is constructed as a three-dimensional interactive environment. Building from traditional methods of Live Action Role Play (Larp) and Real Game Play (RGP) the exhibition unfolds as the viewer moves through its varied realms. A series of hybrid worlds layered with audio, text, and video works SPUR.WORLD envelopes its viewer within a series of artist-generated landscapes, fueling the instinctual desire for escapism, play, and a brief moment outside of our physical selves.



SPUR.WORLD ARTISTS:
Zhang OO, Sade Arellano, Nicholas Delap, Emma Dolan, Jordan Edge, Arieh Frosh, Benjamin Hall, Yifan He, Elijah Kennedy, Nayu Kim, Kerolaina Linkevica, Niamh Lynch, Kinnari Saraiya, and Ellie Towers.
SPUR will be working with the following hosting partners across the UK:
SPUR will be working with the following hosting partners across the UK:
Arebyte,
London
Chaos Magic,
Nottingham
D Unit
, Bristol
Eastside Projects
, Birmingham
Palfrey
, London
QUAD
, Derby
Detailed programme and partnership hosting schedule to be announced
SPUR is produced by
Chaos Magic, Omsk Social Club and D-Unit.
SPUR.WORLD website:
Joel Cocks and Multimodal
SPUR.WORLD virtual exhibition build:
Ben Hall
Graphic Design:
PARADYME
Creative Producer:
Megan Broadmeadow
Head of Public Programme:
Julia Greenway

SPUR is presented in partnership with
Chaos Magic of Nottingham and D UNIT Bristol, Omsk Social Club, Arts University Bournemouth, Liverpool John Moores University, Cursor,
WARP, Resolume and Palfrey.
ECO has generously provided support
for forthcoming micro residency
for the SPUR community.

SPUR.WORLD
and its public programme are generously supported by Arts Council England.
SPUR
is produced and directed by
Joey Holder
>
EXHIBITION ARCHIVE


D-UNIT launched in Spring 2021. Its current emphasis is to showcase 2020 grads who were unable to present their degree shows due to the UK lockdown.

Richard WynWilliams - click HERE


>
ABOUT


D–UNIT is a brand new project space in Bristol

Set up by Artist Megan Broadmeadow and Edward Metcalf (CURSOR video).
D-UNIT aims to provide exhibition opportunities for Bristol based artists as well as bringing in artists from across the UK.

D-UNIT has a social distance aware exhibition space, workshop, studios and video editing suite.